It has been getting chilly here these past few days. I am going to share with you a great cold weather dish that warms you up both temperature and spice wise!
I made this recipe up several years ago when I was a vegetarian and I needed a quick, cheap, dinner.. My husband added his spin to it by insisting I add meat- but I think it is just as good without the meat!
I sometimes use chicken and sometimes I use turkey smoked sausage- both are pretty good!
So here it is-
Zoe's Red Beans and Rice-
1 large chopped onion
1 large chopped green pepper
olive oil
1 28 oz. can of diced tomatoes or crushed tomatoes (I have used both- I like the diced better)
2 cans Red Beans, drained and rinsed
16 oz. package of Smoked Turkey Sausage- chopped
4 cups cooked brown rice (I usually cook this the night before to cut down on prep time)
1 tsp garlic powder
1/2 tsp salt
1/2 tsp pepper
Tony Cacheres Creole Seasoning (to taste)
Add olive oil, to large stockpot. Saute onion and pepper over medium high heat.
Once vegetables are tender add tomatoes and beans to the pot. Heat through, stiring occasionally.
Add sausage, rice, and all seasonings- stir well. Heat through. With the Creole seasoning you may want to add a little at a time and test to see how spicy it is. I like mine pretty spicy but the flavor is good even if you don't add too much spice.
Turn down heat and let simmer for about 15 minutes.
Serve topped with cheese or just plain.
The best part about this meal is it gets better as leftovers- the flavors mix more and are delicious!
I will be linking up with some of
these parties
.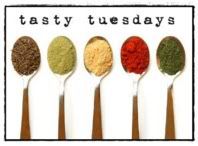 Have a great day and thanks for stopping by!!