I finished the sixth block on the summer sampler tonight. I like the way it turned out but it is about an inch smaller than all of the other squares- so I will have to figure out how to adjust when I go to put them all together!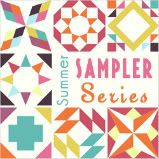 The tutorial for this block- Arkansas Traveler is over at
Freshly Pieced
.
The plan was to get all caught up on the series this weekend but I don't see that happening- I had a lazy day Saturday and slept a LOT! I did finish a couple projects which I will share later.
Thanks for stopping by, Happy Crafting!