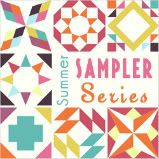 I finished block #4 for the Summer Sampler Series. It is called Flower Garden Path. It is a beautiful square and I loved how it turned out, but it was very time consuming. I got off a little bit in the middle on the right side, but for the most part I am really happy with how this square turned out. For the tutorial go
here
to Swim, Bike, Quilt.
Here are all 4 of my squares so far. I like them together. I haven't looked too closely at block 5 but I did see that I will have to pick out another color to add to it- luckily I found 2 patches of fabric that will work from my stash!
I have some exciting news coming on Friday!
Thanks for stopping by!