Last Christmas time I saw
this post
about
fabric wrapped ornaments
on Under The Table and Dreaming. I thought it would be a great project to help decorate up my lving room.
I got a bunch of styrofoam balls that were my Grandmother's over Thanksgiving and I used the leftover fabric from
my Roman Shades
as a starting off point for color inspiration. I really like how they turned out. I think they kind of look like round Easter Eggs :).
I love the way they look in my chicken wire basket I got at Hobby Lobby!
It was a pretty easy project that didn't take very long (once I started)! I used my rotary cutter to cut the strips instead of tearing them. I also used 4 different size of styrofoam balls.
Here is the lengths I cut for each size ball
4" ball- 12 1/2" strips (3/4"-1" wide)
3" ball- 10 1/4" strips (3/4"-1" wide)
2" ball- 8 1/4" strips (3/4" wide)
1 1/2" ball- 6 1/2" strips (3/4" wide)
Place the first piece down with straight pins.
Then cover up each set of straight pins until no styrofoam is showing.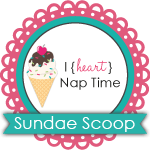 Thanks for stopping by!