I love chinese food- I love it so much in fact that I shouldn't order it because I would eat the whole box (probably more than 2,000 calories)! So here is my "slimmer" version of chicken fried rice. My husband even approves! I love this because it doesn't take too long and it fits into my new diet (I will talk about THAT more next Friday).
2 chicken breasts, cut into pieces
olive oil
1 med. onion
1 bag stir fry mix ( I like the asparagus or snap pea mix)
4 cups cooked brown rice
2 eggs
2 tsp garlic powder
2 tsp curry powder
1 Tbsp soy sauce
salt and pepper to taste
Directions:
Heat olive oil in large skillet over medium high heat. Add raw chicken pieces.
Cook until they are 165 degrees F.
Add sliced onions- saute until they are clear.
Add stir fry mix and cook until tender- usually about 7 minutes.
Add cooked rice to skillet and stir.
Add all seasonings at this point.
Crack eggs over top of the rice and turn up heat.
Cook over high heat, stirring frequently until eggs are done.
Enjoy!!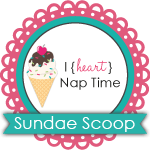 Thanks for stopping by!