First off, I am guest posting over at T-Shirt Diaries for Stashbusting September.
Check it out
to see how to make cute homemade Christmas Ornaments out of your stash! Plus Robin has great projects listed all month long to help you get rid of your stash!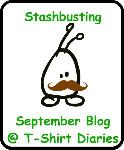 Second, it is New Food Friday. This week isn't anything too groundbreaking- but it sure was easy, and good!!
I don't usually cook a lot of hamburger but we had some leftover from a BBQ last weekend and also had some left over buns. So the easiest thing that came to my mind was Sloppy Joe's. I had never made them before, so I looked up a recipe.
I modified
this
recipe at AllRecipes.com. The main modification I made was to add a whole onion and a whole pepper. It was a very quick, very yummy recipe!
Sloppy Joe's
1 lb. lean ground beef
1 chopped onion
1 chopped green pepper
1/2 tsp garlic powder
1 tsp prepared mustard
3/4 cup ketchup
3 tsp brown sugar
salt and pepper to taste
Saute green pepper and onions until tender.
Brown hamburger.
Drain liquids.
Add all seasonings and let simmer 15-30 minutes.
Enjoy!