All I can say about this project is that I am sooo glad it is DONE!
Do you ever have those projects where everything seems to go wrong- well these last two cushions just happened to have EVERYthing go wrong. I ran out of brown thread (it's stashbusting September so I substituted black. Then I accidentally cut the long cushion fabric the wrong size. Instead of recutting the fabric or the cushion to the right size I decided to try and make the seam allowance smaller. Yeah, bad idea, don't do that!
The last thing that went wrong I feel a little guilty about- I ran out of cording- about 7 inches short- so I went and bought some. Now I know it is Stashbusting September, but one of my main goals was to finish this project. So in order to finish this project and get it out of my stash I did have to go and buy $.90 worth of cording.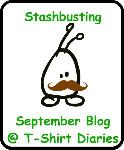 Here is the before picture of the rocking chair. Not bad for $20 on Craigslist!
Here she is after a couple coats of paint and a new cushion. Don't you just want to come sit on my porch and watch the sunrise!!


Here is the porch swing- I still need to paint it, but I love the cushion on it!
For the cushions I used the same tutorial at Sew, Mama, Sew as I did for my other cushions.
I am getting pretty close to revealing my front porch- just a few more things to do!!

Linking up with these parties!




Thanks for stopping by, have a great day!!