This is a recipe that my mother made up and I have been making it as long as I can remember. It is one of the easiest and most delicious recipes in my kitchen!! Even my husband (who doesn't like meatless meals) says this is a good one.
Green Rice-
4 cups cooked brown rice
1 cup milk
2 eggs
1 onion, chopped
1 bag frozen broccolli
2 cups grated cheese (I used mozzarella)
soy sauce
Mix it all together except soy sauce and put in greased 8 1/2" X 13" pan. Sprinkle with soy sauce.
Cook in 350 degree oven for 50 minutes, until brown on top.
I usually make my casserole the night before and just have it ready in the fridge to be cooked the next day.
So yummy!!
Linking Up: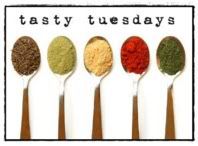 Thanks for stopping by!