I love bananas, but I am a little unusual. I only love bananas when the skin is nice and green. Once they start to yellow I don't like them anymore. So needless to say, we have a lot of leftover bananas around our house. It is good though because I love to make banana smoothies and of course bake banana bread.
This recipe isn't probably anything you haven't seen before, but this is the recipe I use for making banana bread. I have used it for a long time and I don't remember where I got it from. I did alter it by making it all whole wheat flour and I encourage you to do the same. Adding whole wheat flour adds fiber and a lot of other good nutrients that white flour is lacking!
Whole Wheat Banana Bread
1 1/2 cup whole wheat flour
1 1/4 tsp baking powder
1/2 tsp baking soda
1/4 tsp ground cinnamon
1/8 tsp salt
2 eggs
1 cup mashed bananas (3 bananas or 2 large bananas)
3/4 cup sugar
1/4 cup canola oil
Nonstick Cooking Spray
I know this isn't how you are supposed to do this but I just mix all of the wet ingredients in one large bowl, then add all the dry ingredients and stir until just mixed.
Spray a loaf pan or muffin tin with cooking spray. Fill with batter, for muffins fill about 2/3 way up- makes about 12 muffins.
Bake at 350 degrees for 45 minutes for loaf or 35 minutes for muffins.
Maple Brown Sugar Frosting
I decided to add some frosting to the muffins I made (I made a loaf and a batch of muffins) and I found this wonderful recipe for frosting at
Joylicious
- it is delicious!!!
2 cups powdered sugar
1/2 cup brown sugar
8 Tbsp butter
1/8 tsp salt
1/4 cup real maple syrup (I just used pancake syrup)
1 tsp vanilla
Mix sugars and butter until combined. Add salt. Using mixer, beat on medium while adding syrup and vanilla. Beat until creamy. Frost cooled muffins!
So yummy!!!!
It's hard to bake all night with this little one staring at you!!
Linking Up: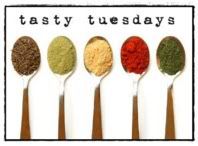 Thanks for stopping by!